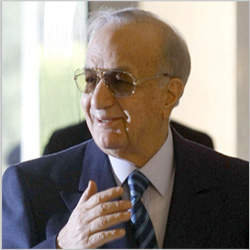 Michel Murr
Michel Murr was born in Bteghrine in 1932. He studied at Saint Joseph University and graduated with a Polytechnic Engineering degree in 1955 from France.
He was elected a member of the Lebanese Parliament from 1968 till 1972 and again in 1991 till he passed away in January 2021. He is also the head of the French-Lebanese Friendship Committee as well as the German-Lebanese Friendship Committee.
In 1969 he was a Minister of Post, telegraph and telecommunications, and then again from 1979 till 1982, Minister of Housing from 1979 till 1982, Deputy Prime Minister and Minister of National Defense from 1990 till 1992, Deputy Prime Minister from 1992 till 1994, Minister of Interior from 1994 till 2000, and a Deputy Prime Minister from 1994 till 1995.
H.E. Michel Murr was the president and the general manager of Liberal Bank from 1971 till 1976.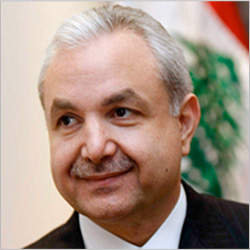 Elias Murr
(Click here to view the full CV of H.E. Elias Murr)
Elias Murr was born in Bteghrine in 1962. He holds a Master's degree in Law.
He was the Minister of Interior and Municipalities from 2000 till 2004, the President of the Arab Interior Ministers Council from 2002 till 2004, the Interim Foreign Affairs Minister in 2005, the Deputy Prime Minister and Minister of National Defense in six consecutive Lebanese governments until 2011. In 2011, Murr was a member of the Lebanese National Dialogue Committee. In October 2013, Murr was appointed as the Interpol Foundation President.
Elias Murr played a major role in the execution and the implementation of the 1701 resolution of the United Nations.
In parallel with his political endeavors, Murr spent the past twenty years at the helm of "Group Murr".
Elias Murr also owns Al Joumhouria News Corporation and Al Joumhouria Pan Arab, the publisher of one of the Middle East's leading daily newspapers founded in 1924, and of several other thematic periodicals.
Under Elias Murr's leadership, Al Joumhouria newspaper became the first Lebanese newspaper to embrace new media, by developing proprietary mobile applications, push notifications, and developing an award-winning website (PAN ARAB AWARD) for its digital edition.
Elias Murr is an honored officer of the National Cedar Legion and the holder of the Grand Cross of the Order of Spain.